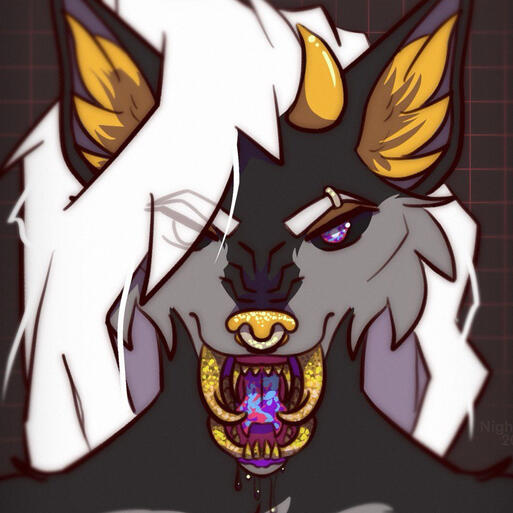 Nightsabra's Art
Bringing fantasies to life one pixel at a time.
---
Hi there! My name is Cheyenne, otherwise known as Nightsabra. I have been bringing characters to life for over 6 years now. I aim to grow with each art piece I create.
---
I pride myself on…
- Quick turnaround times
- Open communication (WIPs, daily updates)
- Overall professionalism

My goal is to ensure that you are happy!
---
---
Thank you for your continued support! Consider following me on any platform below!
You can also contact me on these platforms for a commission!
♥ Pricing ♥
Click images for full size
---
Sketch Style #1
Headshot: $35
Fullbody: $50
Only some markings are included.
---
Sketch Style #2
Headshot: $50
Fullbody: $65
All markings included; full color with minimal shading.
---
Cell Shaded
Headshot: $70
Fullbody: $100
---
Reference Sheet
2 Views: $100
3 Views: $120

Clothing:
-+$40 for one
--+$30 for each one after

-Headshots: +$25/ea
-Closeups: +$15/ea
-NSFW version: Free

Feel free to ask about anything else you may want!
---
Additions / Upcharges
- Backgrounds: +$60-80
-Additional characters: Same price as the first.
---
---
♥ Terms of Service ♥

You must be 18 years of age or older to commission NSFW art from me.

Disclaimer: By commissioning me, you are agreeing to the Terms of Service.

The artist reserves the right to reject, cancel, or halt commissions at any stage if they feel the need to do so.

The artist reserves the right to interpret your character in their own style. This may lead to slight color and anatomical changes.
---
General Information
It is the commissioner's responsibility to provide the necessary information to complete the commission. A proper visual reference is required for quality work. Descriptions will be subject to an upcharge.

If there are issues due to discrepancies in the references provided, this is not the fault of the artist and related changes past the sketching phase will be subject to a charge.

All personal information including name, email, or shipping address will never be shared or sold. The artist respects privacy and will take anonymous commissions upon request.
You may request the artist never posts your commission - this will be subject to a fee.

The artist cannot accept commissions of trademarked characters of any kind.
Will Draw
Feral, anthro, robotic, and humanoid characters

BDSM fetishes (including but not limited to knife play and bondage)

Watersports

Gore of any kind

Some vent art (please note that I may never post this type of artwork for the safety of my viewers)

Sex between anthro characters

Sex between humanoid characters

Anatomically correct NSFW feral characters (i.e. sheaths)
Won't Draw
Suicide

Rape

Incest

Scat

Underage fetishes (DDLG)/CP

Hate art

Sex between feral characters

Sex between a feral and anthro or human characters
Subject to Upcharge
Complex markings

Technical equipment

Detailed mechanical items
---
Payment
All payments must be made via Paypal or Square. All payments must be made in USD.

The artist will offer payment plans; however, work does not start until the invoice is fully paid unless a 50/50 deal is discussed.

Turn-around time is 2-3 days on average. Both larger commissions and the number of people in the queue will increase this turnaround time. Please take a look at the queue before commissioning the artist.

A request for a rush order may be sent, but the price of the commission will be doubled and it will be completed in 24-48 hours depending on the type of commission. The artist reserves the right to decline a rush order if they do not feel as though they can complete it.
---
Process
After receiving payment, the artist will begin work on the commission as soon as they can. On all commissions, a sketch will be sent for approval.
The commissioner may only request 3 rounds of edits to the sketch. On the fourth, the commissioner will be required to pay extra.

Once changes are made, the piece will be finished and sent to the commissioner's chosen form of contact.

No large edits will be made unless they are the fault of the artist. If you want an alternate version of your commission, the artist must be informed BEFORE payment has been sent.
---
Refunds
The artist reserves the right to issue a refund at any time. When this happens, the commissioner will be issued a refund minus the amount of work that has been completed (see below).

Commissioners reserve the right to cancel a commission at any time; however, if the artist has begun work on the commission, only a partial refund will be given. The partial refund is dependent on how much work has been completed.

Sketched/Lined: 50% refund
Colored: 25% refund
Artwork that is completed is non-refundable.
---
Rights
The commissioner retains the rights to their characters, however the artist retains the rights to the art.
The commissioner may repost the art to their gallery as long as proper credit is given.
The commissioner may crop artwork in order to make it an icon or a banner, but no edits may be made to the artwork itself.
The commissioner may not reproduce the artwork or make money off of it in any way.
The commissioner does not have the rights for commercial use unless explicitly told otherwise.

The artist reserves the right to display the commissioned artwork in any place they see fit. The artist also reserves the right to sell prints or make a profit off of the commissioned piece of work. If the commissioner does not want their artwork reproduced, this must be discussed before payment is made.

You do not have the right to mint or sell your commissions [by me] for NFT.
---
By commissioning the artist, you are agreeing to the Terms of Service.
---
Thanks for reading until the end!
---
♥ Testimonials ♥
My clients have been satisfied with my process, but don't take it from me, let's hear from them;
"Alongside being one of the most relaxed artists I've met, Nightsabra is very flexible and understanding. I've commissioned several pieces from them with no issues. Communication is excellent, they're very friendly and easy to work with. Overall a stellar person in general. I recommend their services to anyone looking for art." —Retro The Wolf Hybrid
"Very fast turn around, very professional and kind artist." —Espresso Deer
"Nightsabra is a wonderful artist to work with! Communication is frequent and clear. Nightsabra works with commissioners on revisions at each stage of the process. Both of my commissions were completed the next day — one in a livestream and one with updates via Twitter." — Ponder Beaver
"Nightsabra is great to work with, quick to respond and willing to make tweaks requested to the works. Turn around was super fast and the artwork is very cute!" — Dustin
---